Got family and friends that you would like to include?
Make your gun training a memorable and fun event for all the guys and gals in your family, a birthday or anniversary gift, your church group, friends from school or work. We can have your class at one of our three ranges within minutes of Waco.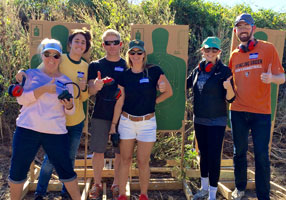 We will help you Tailor your training to your needs
Contact us, and tell us about your individual training needs. We will guide you to the best training class, lessons, or program to help you achieve your goals.
If you are brand new to guns, and may feel uncomfortable in a class of strangers, we understand, and would be glad to work with you privately.
Taking regular lessons is really a great idea, Work one-on-one with a qualified instructor. There is no better way to quickly fine tune your shooting skills, and develop your performance and confidence.


Your License to carry - Concealed Handgun permit class can be taken as a private single student class if you wish.

Advanced tactical training, and defensive action skills are best developed with private lessons and the focused attention and coaching from a trained instructor.

CLICK HERE TO SEND US AN EMAIL MESSAGE or CALL US at 254-313-3922 - Be sure to leave your name and number so we can return your call.....

Cen Tex Gun Training llc serves the Central Texas Waco region, providing Gun Training classes, private and small group gun instruction and lessons, Texas license to carry, LTC CCL, concealed carry and home defense fundamentals classes. Schedule a custom Waco gun class or private class tailored to your family and friends at a home or location of your choice. Contact us with your ideas, questions, or suggestions!