Gun classes, small group and private gun training for beginner thru advanced.
Waco Handgun License to carry, NRA and USCCA classes taught by certified instructors.
Firearms 101! Perfect for beginners, for people who may have a bit of experience, and for those who plan to take the License To Carry class and need to learn to shoot first. Learn gun safety, grip stance, sight picture, shooting fundamentals. Includes range shooting instruction, where you will learn basic range safety, and you can shoot your own gun and a variety of handguns, rifles, and shotguns under instructor supervision.   3-4 hours, classroom and range • 6-10 students • $75  + $10 range fee
Private gun training tailored to your specific needs, and scheduled at times and places most convenient for you. Private coaching is the fastest way to improve your gun skills, identify and fix shooting problems with your grip, stance, sight picture, or accuracy. Instead of spending a small fortune on range fees and wasted ammo, we will help you diagnose shooting problems in minutes under the watchful eyes of a master instructor. Single sessions, or weekly lessons for one, couples, or small groups.  Hourly rates • All range time • 1-8 students
Advanced range training in defensive gun-handling skills and techniques. Increase your ability and proficiency with a defensive handgun. Suitable for both beginning and advanced shooters. Learn the fundamentals of marksmanship, grip, stance, aiming, trigger control, follow-through, loading and unloading, presentation from ready and holster, target engagement from a variety of distances, After-action drills, Clearing malfunctions, Emergency and tactical Reloading.  Hourly rates • All range time • 1-8 students
Texas Department of Public Safety certified License to Carry permit course. Our experienced professional instructors make this class a fun and memorable experience for all. You can sign up for our public class, or contact us to set up a a private class for your family and friends at your home or location of your choice, and a shooting qualification at the range. This is not a shooting instruction class. If you have no experience with a gun, take our INTRO TO FIREARMS class first.  5 hr Classroom and Range • 6-10 students • $85 + $10 range fee
Includes the standard class then adds a valuable two hours of instructor supervised range time following the regular LTC class. You're there anyway, why not stick around for 2 more hours and get some quality coaching from a professional instructor as you learn and practice your gun handling skills.  5 hr Classroom and Range + 2 HR instructor range time • 6-10 students • $115 + $10 Range fee
This is the official NRA full day of thorough pistol training for those new to handguns, and those who would like to refresh their knowledge of guns, safety, and shooting skills. This class will give you the confidence to comfortably and safely own and handle your handgun, and be able to put into practice the basic fundamentals of shooting. Includes instructor led range exercises, NRA completion certificate. If you are not confident with your handgun, SIGN UP FOR THIS COURSE !  8 hours, classroom and range • 4-10 students • $125  + $10 range fee
THIS IS THE OFFICIAL NATIONALLY CERTIFIED USCCA class,  the most comprehensive GOLD STANDARD training for anyone owning or carrying a gun. Covers conflict avoidance, situational awareness; developing your own protection plan; handgun, shotgun & AR-15 basics; shooting fundamentals; the physiology of violent encounters, legal aspects of using deadly force (including knowing what to do in the aftermath); a complete guide on gear, gadgets. 9 hours, classroom and range • 8-20 students • $115  + $10 range fee.
Got family and friends that you would like to include?
We can bring the class to you! Have a private class at a home or location of your choice. This is a great way to learn with your family and friends. This makes your gun training a memorable and fun event for all the guys or girls in your family, a birthday or anniversary gift, your church group, friends from school or work. We can have the class at your location, and then take a short drive to one of our three ranges within minutes of Waco for the live-fire part of the training. Contact us, and we will make it happen for you.....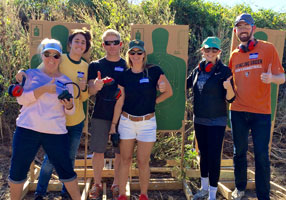 We will help you Tailor your training to your needs
Contact us and tell us about your individual training needs. We will guide you to the best training class, lessons, or program to help you achieve your goals.
If you are brand new to guns, and may feel uncomfortable in a class of strangers, we understand, and would be glad to work with you privately.
Taking regular lessons is really a great idea, There is no better way to quickly fine tune your shooting skills, and develop your performance and confidence, than working one-on-one with a qualified instructor.
Your License to carry - Concealed Handgun permit class can be taken as a private single student class if you wish.
Advanced tactical training, and defensive action skills are best developed with private lessons and the focused attention and coaching from a trained instructor.

Just CONTACT US, we would love to help.
Cen Tex Gun Training llc serves the Central Texas Waco region, providing Gun Training classes, private and small group gun instruction and lessons, Texas license to carry, LTC CCL, concealed carry and home defense fundamentals classes. Schedule a custom Waco gun class or private class tailored to your family and friends at a home or location of your choice. Contact us with your ideas, questions, or suggestions!