INTRO TO FIREARMS - NEW SHOOTER TRAINING
This is a GREAT STARTER OR REFRESHER gun class, relaxed, no pressure, a safe and fun way to learn about guns and shooting.



This class is suitable for all gun owners, newbies as well as those who have some experience.
Learn how to safely handle, load, and operate your gun, and you can shoot a variety of different guns and calibers under the supervision of our instructor. We will discuss the legal and civil consequences of owning, carrying and using a gun in Texas. You will learn gun safety, terminology, how guns work, ammo types, action types, the fundamentals of shooting, sight picture, grip, and carrying options. We can have a variety of guns available for you to learn safe handling, and how they function. Learn how to choose the best gun to buy for your specific needs.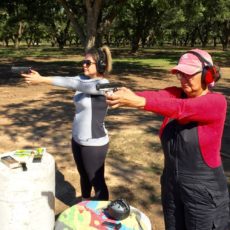 At the shooting range you will learn range safety, and you can practice shooting under the supervision of our instructors. A great way to learn about guns, practice safe shooting, and have a great time in the process!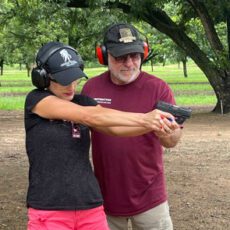 This is a very popular class for families, couples, friends looking for a memorable and fun outing.
The class will follow the NRA new shooter course, and will also leave you with some drills that you can use for practice.
Class Length: Hourly sessions, range. Usually requires 4 hours per training session

Location: We have 3 private ranges in the Waco area.
Date and Time: CLICK HERE to Contact us to schedule your session, or to schedule a private class at your location. Sessions are available on Friday, Saturday, Sunday, and Monday.
Cost: 1-2 people in session - $100 per hour (a 4 hour training session is required for beginners) Add your family and friends for just $25 per hour per person!
Range use fees: $10 per student range use fee,  paid on class day

FOLLOW THESE INSTRUCTIONS, TO SIGN UP NOW!
Sessions are available on Friday, Saturday, Sunday, and Monday. Cost: 1-2 people, $100 per hour. Add your family and friends for just $25 each hour per person!
HOW TO REGISTER FOR YOUR GROUP:
CLICK HERE to send us an email with your phone number and contact information. We will call you to schedule the best date and time for your class.
After we have scheduled your class date and time,
Scroll down and select the total number of people you are including in your class, then click the BUY NOW button.
After you click the BUY NOW button you will be directed to the checkout webpage. On the checkout page, select the number of hours needed for your training class (QUANTITY). ( 4 hour training session is recommended for beginners ).

After you complete your payment, you will be forwarded to the student registration page. Fill out the student registration information form on that page, and follow the instructions to complete your registration.....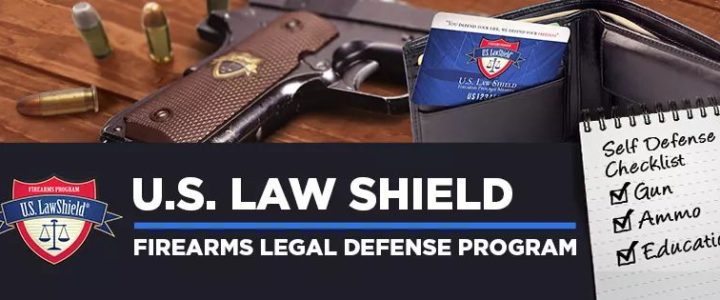 U.S. LawShield® offers concealed carry insurance* for as low as $10.95 per month. 
Are you prepared for the legal aftermath if you do use your weapon? Even if you claim self-defense to the police, it can cost thousands upon thousands of dollars in legal fees to clear your name.
Use this affiliate link to get 30 days free!
U.S. LawShield® provides quality and affordable legal defense coverage for responsible self-defenders and firearms owners. We're giving you an exclusive opportunity to try out our membership experience free for an entire month—no setup fee, first 30 days free.
U.S. LawShield member coverage includes:
24/7/365 emergency access to an attorney-answered hotline
Legal representation for both criminal and civil cases
Zero attorneys' fees for covered events—no limits, caps or deductibles
Answers to your self-defense questions through our everyday helpline.
Access to our online training video library.
DON'T WAIT, GET COVERED TODAY.
CLICK HERE TO GET YOUR WACOGUNCLASS DISCOUNT