"Do I need a License to carry a gun in Texas?"
You do not need a license to have a handgun or rifle if you are a law-abiding adult in Texas in legal possession of a gun. However, you must know and follow the laws regarding where and how you can legally carry and use a firearm in Texas. Obtaining the Texas License To Carry is HIGHLY RECOMMENDED FOR ALL GUN OWNERS! There are many advantages to having a License To Carry, and  the training class informs you of the laws.
---
"Do you teach the official Texas DPS certified License to Carry course?"
YES! We offer the Texas Certified ONLINE LTC class, and the classroom Face-to-Face LTC classes.  We can even bring the class to your home or location of your choice for your family or friends, followed by a short trip to one of our nearby ranges for the shooting qualification. This makes for a fun and memorable event for your friends, family or church group.  CLICK HERE to learn more about our private/small group License To Carry class and our ENHANCED License To Carry Class.....
---
"How do I get my Texas License to Carry?"
1) Complete one of our TEXAS LICENSE TO CARRY CLASSES either ONLINE or face-to-face. Upon successful completion of the class and the shooting qualification test, you will receive a Certificate of Training for submission to the Texas Department of Public Safety. The Certificate of Training is valid for 2 years.
2) Complete the license application process through Texas DPS and pay the license fee. DPS prefers you to use their online application process, but you can still submit a paper application. As a part of the online application process, you will also pay for and schedule electronic fingerprinting ($10). It usually takes 30-60 days to receive your license once you have completed the application process. Scroll down to see instructional step-by-step video.
---
"What is the LTC Shooting Proficiency Test?"
Students will shoot at a "B-27" target which is a human-shaped silhouette target that measures 45" high and 24" wide.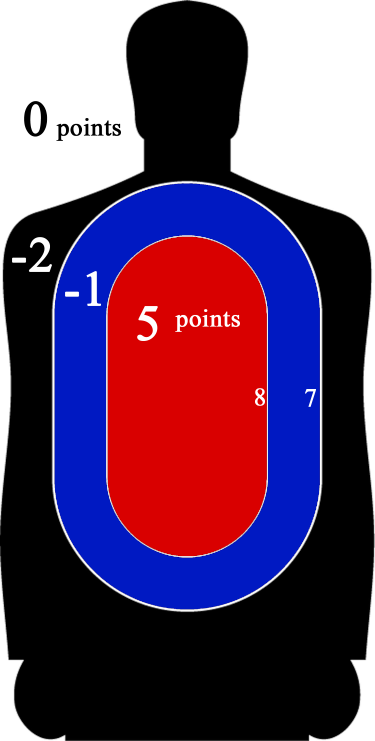 A total of 50 shots are fired during the range qualification test, in specific steps with time to rest in between.....
20 shots from 3 yards

20 shots from 7 yards

and 10 shots at 15 yards
The majority of students pass the proficiency test when they have completed shooting at 3 and 7 yards, however, all 50 rounds must be shot. If rounds are held (not fired within the allotted time), the shots will be scored as misses.
A score of 70% or greater is required to pass, or 175 points out of a possible 250 points.
5 points – shots fired in the X, 10, 9, & 8 rings

-1 points – shots fired in the 7 ring

-2 points – shots fired outside the 7 ring but on the silhouette

-5 points – shots fired outside the silhouette or off the target paper
---
"How much experience with shooting handguns do I need to have before I take the LTC class?"
A student needs to be familiar with the handgun and know how to load, operate, shoot and unload the handgun safely before the class. Students with no prior shooting experience, or who believe themselves incapable of passing the shooting test without coaching should take our NEW SHOOTER/INTRO TO SHOOTING, or PRIVATE INSTRUCTION class prior to this class, and gain some experience at a shooting range before taking the LTC shooting qualification test.
---
"What kind of handgun and ammunition do I need to bring?"
You may use any caliber revolver or semi-auto pistol that is in SAFE and RELIABLE working condition. You will need 50 rounds of factory new boxed ammunition for the shooting test, and you should have an additional 50 rounds available if you need to re-shoot the test. NO RELOADED ammo can be used for safety and reliability reasons
---
"Where can I find the official DPS website and resources?"
TX Concealed Carry Application
State Laws and Reciprocity
---
"How do I RENEW my Texas License to Carry?"
Within 6 months before your current license expires, you can renew your Texas license to carry online at this link CLICK HERE. No class or fingerprints are needed to renew, just pay your fee and that's it. For questions call DPS at  1-512-424-7293.
---
Cen Tex Gun Training llc serves the Central Texas Waco region, providing Gun Training classes, private and small group gun instruction and lessons, Texas license to carry, LTC CCL, concealed carry and home defense fundamentals classes. Schedule a custom Waco gun class or private class tailored to your family and friends at a home or location of your choice. Contact us with your ideas, questions, or suggestions!
Like us and share with your friends!