Having a gun does not make you safer. Knowing how to handle your gun does.
Waco gun classes for Constitutional and License To Carry, One-on-one and small group training sessions taught by certified professional instructors.

Learn about Constitutional Carry, gun handling safety, shooting fundamentals, and how guns work. Includes range shooting instruction where you can shoot your own gun and a variety of handguns or rifles under instructor supervision. For individuals or small groups. Perfect for beginners, those who may have a bit of experience, those who plan to take the License To Carry class → read more →
Next Step Training. Learn how to effectively defend yourself with live-fire range training in defensive gun-handling techniques. Build your skills and confidence - Increase your security and safety. Learn how to safely carry, draw from a holster, target engagement from a variety of distances, Clearing malfunctions, Emergency and tactical Reloading → read more →
Contact us to schedule a Texas DPS Certified LICENSE TO CARRY CCL LTC  class for your family and friends at a home, church or location of your choice, followed by a live-fire range session at one of our 3 private ranges within minutes of Waco. Our experienced professional instructors make this class a fun and memorable experience for all → read more →
This is the official online Texas LTC class certified and approved Statewide by the Texas Department of Public Safety. Take this Texas Certified online class on your desktop, laptop, iPad or  smart phone. Our online Texas LTC class is only 4 hours long and you can take it at your own pace. You can stop, log out and log back in and pick up right where you left off → read more →

Shooting Test ONLY for online LTC students
Private gun training for individuals and small groups tailored to your specific needs, and scheduled at times and places most convenient for you. Private coaching under the watchful eyes of a master instructor is the best and fastest way to learn and improve your gun handling skills. Single sessions, or weekly lessons for one, couples, or small groups → read more →
Got family and friends that you would like to include?
Make your gun training a memorable and fun event for all the guys and gals in your family, a birthday or anniversary gift, your church group, friends from school or work. We can have your class at one of our three ranges within minutes of Waco.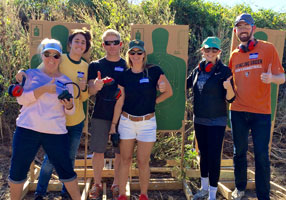 Have a lawyer on speed dial in case of emergency

As a law-abiding gun owner, there's a big reason why you chose to buy a firearm: to protect yourself and your family. You want to have peace of mind while keeping your family safe inside and outside of your home.
However, are you prepared for the legal aftermath if you do use your weapon? Even if you claim self-defense to the police, it can cost thousands upon thousands of dollars in legal fees to clear your name.
So, how do you carry a gun and avoid a plethora of legal costs in case you're forced to pull the trigger?
U.S. LawShield® offers concealed carry insurance* for as low as $10.95 per month. This includes the AttorneyResponse 365® Emergency Hotline, where an Independent Program Attorney will answer your call any time you're in a self-defense incident. Plus, all your attorneys' fees are completely covered for self-defense with your membership.
Join the U.S. LawShield family to have a lawyer on speed dial in your greatest time of need.
CLICK HERE FOR OUR WacoGunClass SPECIAL MEMBERSHIP PROMOTION.....
Cen Tex Gun Training llc serves the Central Texas Waco region, providing Gun Training classes, private and small group gun instruction and lessons, Texas license to carry, LTC CCL, concealed carry and home defense fundamentals classes. Schedule a custom Waco gun class or private class tailored to your family and friends at a home or location of your choice. Contact us with your ideas, questions, or suggestions!