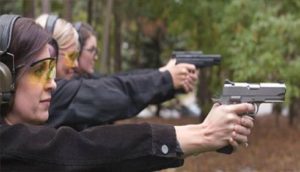 Sign up here for the Official Texas DPS approved and certified License to Carry Range Shooting Qualification - for those who have successfully completed the Texas Online License to Carry class and need to complete the Range Demonstration of Proficiency to meet the DPS requirements.
AVAILABLE IN WACO - CENTRAL TEXAS AREA ONLY.

 
Cost = $50 for the testing fee, plus the range use fee of $10
You must know how to shoot and safely handle a handgun before coming to the range. If you need to learn to shoot before this portion please consider our New Shooters - Intro to firearms training.
After you have successfully completed the online portion of the LTC class, you will receive a LTC 101 form which you will need to take 2 copies of with you for the range qualification test. Once you have passed the range qualification, the instructor will keep 1 copy and you will send your copy of the completed LTC 101 form to the DPS to receive your LTC.
You will need to bring a handgun and 50 rounds of factory manufactured ammo (FMJ Brass case only). We suggest you bring an additional 50 rounds of ammunition in case you need to re-shoot the test. If you do not have a handgun or ammunition, let us know and we can arrange that for you.
Semi-Auto or Revolver is ok, .22lr caliber is ok as well.
Remember to bring 2 copies of your LTC 101 with you to the shooting qualification.
For additional information about the Range Qualification and obtaining your Texas License to Carry, CLICK HERE
These people are exempt From The Shooting range test.....
Texas correctional officers (CO'S).
Active duty military or veterans that have within the past 10 years completed training in the familiarization of firearms OR have firearm shooting scores from the military.
County Jailers that have completed firearms training as part of their employment.
Just fill out this info request, and we will get back in touch with you to let you know when the next Shooting Qualification test in the WACO AREA will be available.