HANDGUN LICENSE CONCEALED CARRY  LTC  CCL CLASS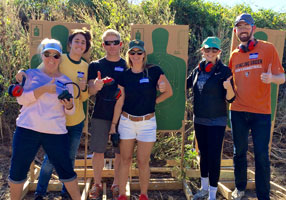 Recommended for:

Beginner

Intermediate

Advanced

Prerequisites: You must be able to pass the shooting qualification.
Number of students: 5-20
Class Length: 6 hr classroom and range class
Date and Time: Scheduled as needed - Contact us to schedule a private class at your location

Cost: $85, ( plus a range fee of $10 paid to range owner on class day )

SCROLL DOWN TO REGISTER.....
HANDGUN CHL CCL LTC LICENSE CONCEALED CARRY CLASS
Our Waco Handgun license to carry classes are taught by highly trained certified professionals with years of training experience. You will receive the highest quality training in a fun and memorable class.
You can schedule a private license to carry class for individuals, families, or a small group of friends at a home, church or location of your choice. We have 3 ranges within minutes of Waco to use for the shooting portion of the class. Contact us to set up your private class.....
This is the official DPS certified license to carry class designed by the Texas Department of Public Safety, that is required to receive your license to carry permit. The training covers the legal aspects and laws concerning License to Carry, but does not provide any gun handling or range/shooting training. Students with no prior shooting experience, or who believe themselves incapable of passing the shooting test without coaching should consider taking our NEW SHOOTER/INTRO TO FIREARMS CLASS prior to this LTC class.
Content covers the laws and state requirements to legally carry a gun, including:
• use of deadly force
• dispute resolution
• concealed handgun law
• gun safety and storage
• selection of a concealed carry gun
• legislative changes
Written and live-fire exams​
After completing your Texas license carry class you will be qualified to submit your certificate to the state, and apply for your license to carry.
Ammunition: 50 rounds of handgun ammunition​ required to pass the range test. If you need to re-shoot the test, another 50 rounds will be needed. We suggest that you bring at least 100 rounds.

For an extra fun experience, check out our ENHANCED LICENSE TO CARRY CLASS. It covers the same material but adds 2 hours of instructional range time for you to practice with professional supervision!
We have prepared a special webpage to answer many of the common questions we get from students about the Texas License to Carry registration procedures, and range shooting test.

CLICK HERE TO SEE ALL OF THAT INFO
to contact us about our upcoming class.....
We can set up a private class for your family and friends at the time and location of your choice. We have 3 private ranges in the Waco area, and will contact you to set up the location and details for your class in a few days. We normally schedule these classes on Saturday or Sunday afternoons.
Training resources and helpful information are available for you here on our website. Explore our pages by visiting these links.....
Cen Tex Gun Training llc serves the Central Texas Waco region, providing Gun Training classes, private and small group gun instruction and lessons, Texas license to carry, LTC CCL, concealed carry and home defense fundamentals classes. Schedule a custom Waco gun class or private class tailored to your family and friends at a home or location of your choice. Contact us with your ideas, questions, or suggestions!
Like us and share with your friends!