What do our customers have to say about WacoGunClass?
Simon P.
"Brian is a superb trainer. As a novice I felt safe and engaged."
Ethan G.
"Great instructor super comprehensive explained everything I needed to know in great detail highly recommended."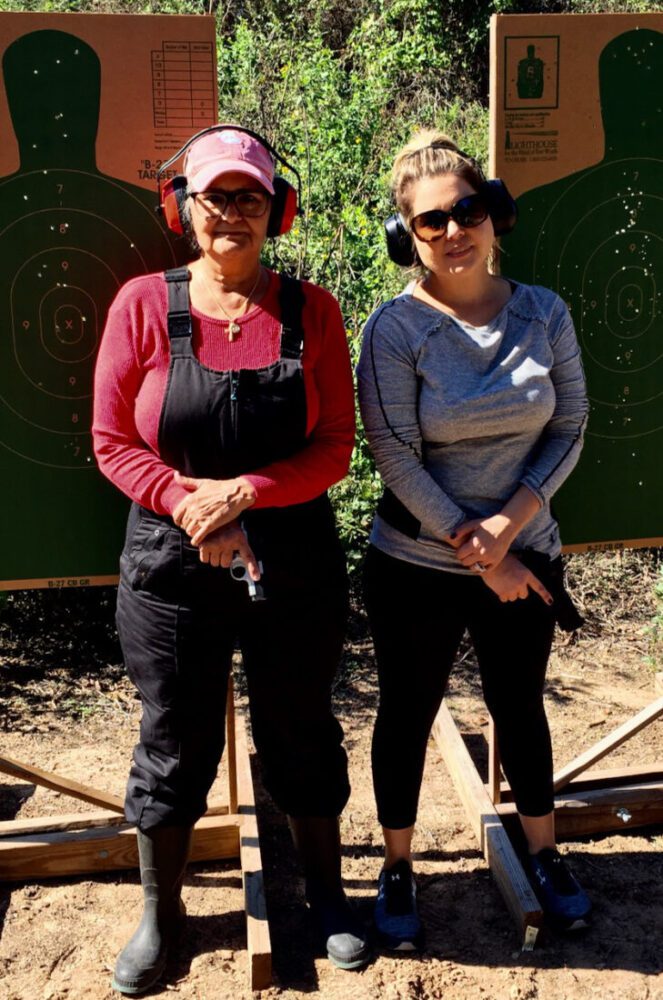 Shirley L.
"We learned so much about the best ways to ensure our family's safety. Brian's knowledge and skills are most impressive and he taught us the best ways to safely handle firearms in our home. We hope to take additional classes with him in the future."
Noah B.
"Brian was an excellent instructor, very informative and extremely entertaining. If I am ever looking for more firearm training I'll certainly be going to him."
Darin G.
"My wife and I wanted to start getting trained in firearms. Its important for us to be SAFE gun owners. After some research, we decided to have Brian get us started. It was a great choice! Brian has a great teaching style that brings confidence to the students. We HIGHLY encourage any one at any level, to seek Brian out for instruction! YOU WONT REGRET IT."
Tiffany K.
"Brian is extremely knowledgable & very patient. We plan on taking a second level class when we return to town."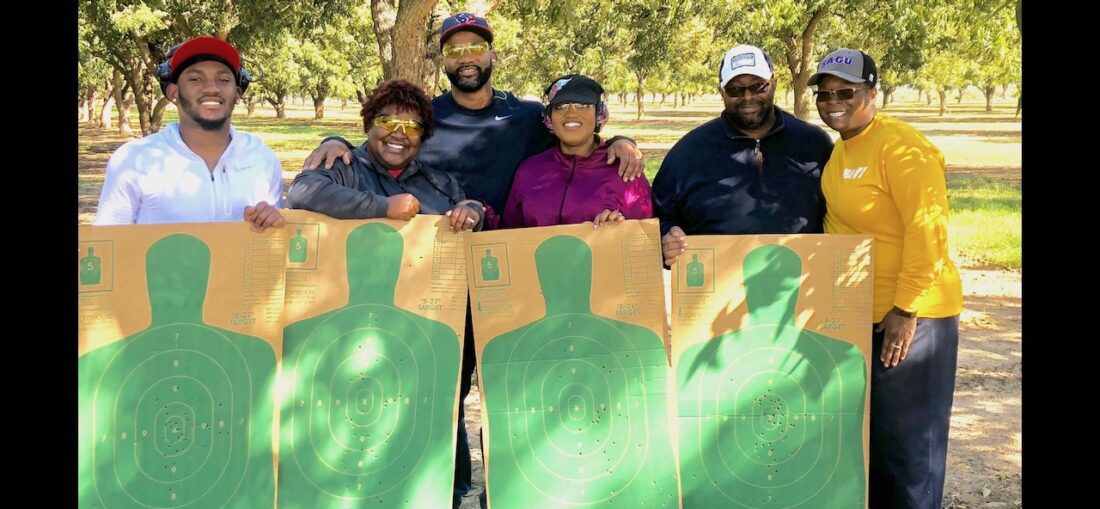 Gary H.
"I recently completed CenTex Gun Training's New Shooter Intro to Firearms course led by Brian Konzelman. Brian did a great job leading the course. His rapport with students and his experience and expertise with firearms were the perfect combination to put everyone at ease with gun safety and the live fire target practice. The class was excellent and I would highly recommend it to anyone! I will definitely return for more training."
Cleveland C.
"I highly recommend anyone who is interested in weapon training, to meet Brian and ask him to help with your personal goals surrounding safety and gun training. I appreciated his honesty and willingness to listen, he allows people to ask all types of questions and never made me feel uncomfortable. Thank you Brian for all your help!!"
Denise L.
"This class is perfect for the beginner who has little to no experience with guns to take prior to taking your LTC class. Besides covering the basics of handling a gun he goes over the legal ramifications of carrying, and possibly having to use a gun, for your personal protection and he will answer any questions you may have. "
Miles E.
"Not a usual pastime of ours, we decided to explore a new hobby and met with Brian for a three-hour-long session wherein we spent the first hour learning about the chronology of landmark firearms throughout American history. The second hour was centered around the fundamentals of firearm safety and proper handling practices. Lastly, the final hour was spent in practice!
Do not make the mistake of buying one of these tools without taking a fun, and informative lesson from an erudite and accredited trainer. Brian is so patient, easy-going, and serious enough to feel supported with asking any and all questions.
Once again, this isn't something you want to try and penny pinch. Take a good lesson. You won't regret it."
Cady M.
"Brian is a wonderful teacher. Class was very informative and fun."
Bruce W.
"Great experience. Great trainer. Thank you Brian Konzelman. Brian has over 40 years experience, but he is Not "old school". He is a "modern day reality" firearms instructor.
He teaches to any level!
Current gun laws?
CCA?
First time user?
Proper gun handling?
Highly recommend!!!"
Jessie R.
"Professional and thorough experience at Brian's LTC Class! His ability to answer questions and frame scenarios with full consideration was helpful and I left feeling properly equipped. Looking forward to returning for more training!"
William S.
"Brian is a great instructor. He is very knowledgeable and covers the material very thoroughly. If the Boy Scouts had a Pistol Shooting Merit Badge, the material would look very similar to this."
Dwayne Y.
"I spent a lifetime around shotguns and rifles but little experience with handguns. Had a great informative introduction class with Brian learning the basics of handguns and how to shoot them."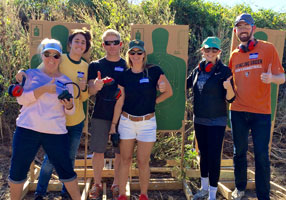 Brad P..
"You know what another word for old is? Experienced
Brian is really experienced with most any kind of firearm. He may be experienced but he also knows how to break it down so that everyone can understand some of the more technical shooting stuff."
Alison W.
"As a newbie to Texas and gun handling, I chose to reach out to Brian after some local research. I am so glad I did!
I learned so much in our private session and came out understanding exactly what would be the best choice of guns for my lifestyle and needs. If you want real-life training and a well-planned progression of teaching the basics, Brian is your man. Not only will you come out more confident in what you need to learn more about and practice, information on purchasing options and ammo choices, etc...you will have a fun and entertaining time doing it. .....I am looking forward to training with him again!"
Todd B.
"Mr. Konzelman was very knowledgeable and safety was #1 priority. Great class, highly recommend."
Chris W.
"If your looking to learn, or to advance your training, i recommend Brian at CenTex Gun Training. Me and my daughter took the class, and me having basic knowledge, my daughter only knowing the few things i have told her, came out of the class with a comfortable understanding on how to handle and operate a firearm. He was very understanding of our levels of knowledge, and was able to work with both me and my daughter."
Jonathan R.
"What a great informative and fun class! Brian was incredibly thorough and patient with us. I was especially impressed that he spent so much time on not just shooting, but especially on safety and legal aspects of owning and shooting a weapon and inherent responsibilities. Can't wait to take another class from him. Thanks, Brian!"
Lezlie M.
"My family and I took a defense tactics class with Bryan. He is an excellent communicator; he's full of useful and important information and clearly loves teaching others about guns, gun safety and how to defend one's self. He is an all-around great teacher/trainer."
Drew C.
"Brian's basic pistol course is excellent--I highly recommend it to others. I consider myself fairly knowledgeable about firearms, but chose to take this course to make myself as well rounded as possible. It was a smart choice. I am a better shooter after taking this class!"
Owen W.
"Brian is an expert instructor. Personable and relatable. His presentation of introductory material thru through delivery in my training module was thorough and well paced. His instruction starts at where you are experience wise with achievable goals to progress for the next level. Brian effectively reinforced safe firearm handling and why it was for me always important to develop correct repetitive muscle memory in every step of the training."
D. L.
".....He keeps it relaxed, no pressure, and he is very patient! I personally am not a total novice but since I have not shot my guns in years I decided to start with this beginners class before getting my LTC and am very glad I did so. It was a great refresher course for myself and my sister, who already has her LTC, and we did learn new things in it. Will soon be taking my LTC class with him next!"
Danny G.
"Brian is an excellent instructor. Patient, knowledgeable and has a keen sense of humour. Our family of 4 started with zero experience in firearms, but after just 1 session our knowledge and skills improved tremendously. If you're looking for firearm instruction in the Greater Waco area, please choose Brian."
Michael M.
"Outstanding class and well worth it. Information was spot on and instruction was great. Would recommend this class to anyone that needs gun and safety training. My wife and I thank you very much."
Susanne G.
"Really enjoyed Brian's course. Highly reccomend to anyone looking for either a portal class or a beginning shooter."
Daniel L.
"We did a family class with Brian at Centex Gun Training yesterday. It was exactly what I wanted to help introduce my kids to guns the proper way. Brian was engaging and entertaining for them yet professional and instructive on the dangers, safety, and precautions necessary when handling firearms."
Paul V.
"My wife and I learned a ton in Brian's basic/beginner course! Brian is friendly and insightful. It was a great learning environment on a quiet private range in the shade of pecan trees—easy to talk, listen and learn. We will certainly be doing more training with him."
Steve F.
"Brian is extremely knowledgeable and a terrific teacher. He is very effective at providing information and technique instructions (including safety protocols) that are easy to remember. I strongly recommend him for anyone, but especially for those who are new to firearms."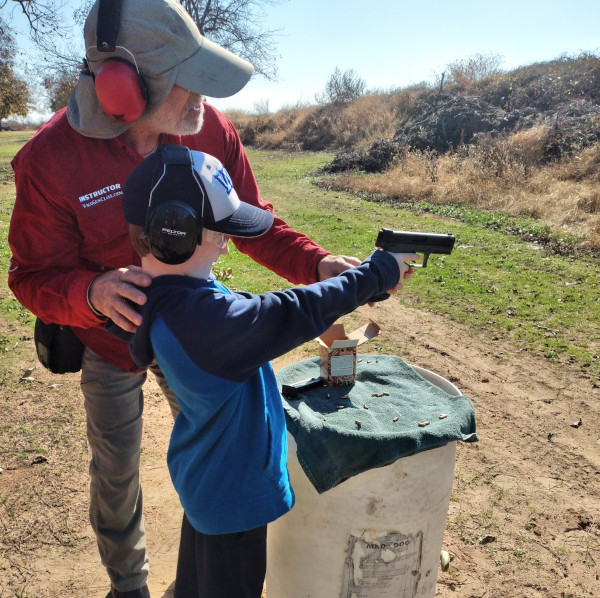 Gregory C.
"My wife had never fired a gun before in her life. I set up a personalized training session with Brian and it was perfect.  I cannot say enough about his professionalism and how patient and courteous. His ability to instruct was fantastic and concise. Once we were at the range shooting he followed all standard safety precautions and at the end my wife was much more comfortable with firearms and is wanting to get more involved into shooting."
Steve G.
"Completed the training course today in my home with 6 of my close friends. We all enjoyed the class and learned so much. Great job by our instructor Brian Konzelman, who mad the entire experience fun and informative . I would highly recomend."
Rui Z.
"Brian is a very nice instructor. I booked intro to gun class online. And he went over the tradition of guns, different caliber handguns and how the majority parts on them work. He is also very knowledgeable about the safety and rules about gun and the related stuffs. At the end of class he let me shoot different hand guns with .22,.38,9mm calibers and a shotgun. I would recommend him as your gun trainer. I feel I learned enough to operate a gun now. I would consider to book another class sometime soon."
Allison C.
"Brian is great and very knowledgeable. Definitly would recommend him."
Tracey C..
"We purchased gun training class for our (adult) kids for Christmas. We enjoyed the private setting and the information we received was invaluable. We cannot wait to set up another class. I highly recommend for anyone that owns a fire arm."
Raylan B.
"Brian is incredibly knowledgeable, professional and was great at helping me start my training. I would recommend him for anyone wanting to get their education and training on track!"
Connie C.
"I learned so much. Never handled a firearm before and was a bit apprehensive when I first got to the class. After having so much patience and being very detailed in explaining the basics on how to handle a gun, how to use it safely , how to load and unload, the proper stance and many more other things that are needed to know when you own a firearm, I left the class feeling much more confident that I now have the knowledge to safely handle a firearm. The range training was extremely helpful with my apprehensiveness in handling a firearm."
De L.
"Brian thank you for the class, we learned so much. I would highly recommend this to anyone and I already have. You are a great instructor especially with kids and it shows that you really care about teaching them the right way to go about doing things. Can't wait to book my concealed handgun class. Thank you again."
Aaron C.
"My wife an I learned a lot from Brian. We definitely are more confident with handguns now and have gained the knowledge to move forward with our goal of becoming responsible handgun owners. This is an excellent training course."
Sue R.
"Great training... good refresher for someone like me who has taken training in the past, and wanted to go back to the basics and make sure I'm training properly. Thanks, Brian!"
Marko S.
"Brian is very patient and knowledgeable, class was tailored to us. I highly recommend this and will return for more training."
Stephen G.
"Awesome gun training! Brian did a complete course with a bunch of co workers that just relocated to texas. Concise teaching, and to the point. Would recommend!."
Catherine H.
"After my first training course, I signed up again for some additional practice with Cen Tex. Brian was extremely helpful once again and now I feel confident in my ability to handle my gun and use it safely. I *highly* recommend Brian and CenTex."
Cen Tex Gun Training llc serves the Central Texas Waco region, providing Gun Training classes, private and small group gun instruction and lessons, Texas license to carry, LTC CCL, concealed carry and home defense fundamentals classes. Schedule a custom Waco gun class or private class tailored to your family and friends at a home or location of your choice. Contact us with your ideas, questions, or suggestions!