Having a gun does not make you safer.
Knowing how to handle your gun does.
Learn to handle your gun safely and confidently in a defensive situation.  Private classes for individual or small group on-the-range training.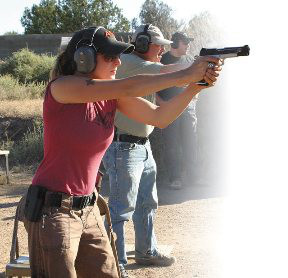 After you have learned basic handgun skills, gun safety rules, and perhaps even have your CHL/LTC license to carry, your next step toward responsible gun ownership and CONFIDENT CONCEALED CARRY is to develop and practice your DEFENSIVE GUN HANDLING SKILLS.
If you had to rely on your training, skills and weapon to defend yourself, would you be ready?
The fact is that most people freeze in an emergency situation, because they have not trained for an appropriate response. Things go wrong in a confrontation, your adrenaline eats all of your coordination, mechanical things break at the worst possible moment, and bad guys do not do what you want them to.
Target shooting, and basic gun skills are something every gun owner should be confident with. But defensive gun training is very different.
The paper target at your gun range is not shooting back at you. In a defensive emergency you must be able to respond perfectly in a split second. This requires planning, training, and skills.
Defensive gun handling skills require specific training and practice to become proficient. These things just cannot be learned in a classroom, online, or as part of a larger group. Our private training sessions will focus on what YOU need to know for YOUR specific life situations.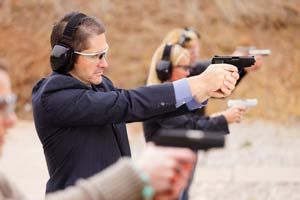 Our private range-training sessions can help you learn:
What actually happens in real defensive shooting situations

Gun handling under stress

Understanding what constitutes a deadly threat

Accurate shot placement, rapidly and under stress

How to properly reload your pistol quickly (tactical reload)


Malfunction clearances when things go wrong with the pistol

Use of cover and concealment

Movement while and after shooting

Rapid target acquisition

Dealing with multiple threats

Engage targets at multiple distances

Selection of a defensive pistol and accessories

Selection of defensive and training ammunition

Safe gun handling for concealed carry

The draw, holster skills, getting your pistol into action from concealment
We will teach you drills that you can safely practice at home. When you have mastered these come back for another DEFENSIVE HANDGUN session, and do the drills with the instructor at the range with live fire.
Think of your defensive gun training in the same context as music lessons. If you practice regularly, and meet with your teacher from time to time for another lesson, you will become very proficient, and have a lot of fun in the process!
You can train alone, as a group of two, or add your family and friends for just $25 each per hour (+ $10 range fees). It makes for a fun, memorable and very affordable 3 - 4 hour private session tailored to your group.

Would you bet your life on your defensive gun skills?
Class Length: Hourly sessions, range. Many prefer to book 4 hours per training session

Location: We have 3 private ranges to choose from, all within 10 minutes of Waco.

Date and Time: Scheduled for your availability, contact us

Cost: 1-2 people per hr session - $100. Add your family and friends for just $25 hr per person!

Range fees: $10 per student fee paid on class day
Ammunition required: 50+ rounds for each hour of training
Cost: 1-2 people - $100 per hr. Add your family and friends for just $25 each hr per person!
CLICK HERE to send us an email with your contact info.  We will contact you to set up the best date for your training. Sessions are available on Friday, Saturday, Sunday, Monday.
SIGN UP NOW!
Decide how many people you will have in your class, and the number of hours of training you want. ( 4 hour training session is recommended )
Scroll down and select the total number of people you are including in your class, then click the BUY NOW button.

Next, select the number of hours you would like for your training class (QUANTITY) on the checkout page. ( 4 hour training session is recommended ).

After you complete your payment, you will be forwarded to the student registration page. Fill out the student registration information form on that page, and follow the instructions to complete your registration.....
Cen Tex Gun Training llc serves the Central Texas Waco region, providing Gun Training classes, private and small group gun instruction and lessons, Texas license to carry, LTC CCL, concealed carry and home defense fundamentals classes. Schedule a custom Waco gun class or private class tailored to your family and friends at a home or location of your choice. Contact us with your ideas, questions, or suggestions!
Like us and share with your friends!